Have you ever showed up to class thinking, "I won't get too sweaty, I'll just head straight to _____ after class."? We get it, life is hectic and sometimes you have just enough time to squeeze a flow into your completely stacked calendar.
But let's not kid ourselves, you're gonna get sweaty. Really sweaty. A change of clothes and some deodorant won't fix the drenched hairs stuck to your forehead, but we can't have you missing out on the glory of heated yoga, either.
As Jonathan Van Ness says, you wouldn't wash your favorite shirt every day, so you shouldn't wash your hair every day, either! I, for one, don't want to disgrace JVN.
Behold, the solution to *almost* all your problems. Here are my favorite tried-and-true ways to hide that post-yoga hair in a sweaty but stylish way. Stay on track in your practice and on trend in your style at the same time.
Refresh
Before you do anything else… The easiest way to refresh your hair for any style is to blow-dry your roots where they've accumulated some sweat, and spray in some dry shampoo. Let it sit for a minute or two, then work it in with your fingers. Run a brush through your hair and baby, you're brand new.
Accessorize
ICYMI – accessories from the 80's and 90's are back. Scrunchies, big hair clips, and statement headbands are your new best friends when it comes to covering up sweaty roots. Look for hair scarves and boho wrap headbands to do all the work for you, just pop one on and you're instantly covered yet cute.
Pro tip: use a regular elastic under your scrunchie to get the same amount of oomph in your pony.
Style
There are certain hair styles that just work better with dirty hair. Lucky us!
Try the Kim K: It's as easy as pulling your hair back into a straight, low pony for a super sleek look. Leave your part and hairspray down the baby hairs to leave the studio feeling fierce.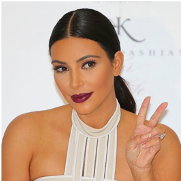 Then there's the oh-so-classic top knot: Pull your hair up into a slick high pony. Brush through your part to get an even surface all the way around your head, then twist and wrap your hair into a tight bun on the crown of your head. This works great for naturally curly AND straight hair.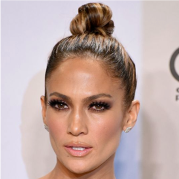 There you have it – how to be sweaty yet stylish. I hope this helps you with your mid-day, post-sculpt class hair. Most importantly, if you leave the studio feeling stronger and more confident, that's a win in my book – no matter how your hair looks. Get out there and rock that sweat, people!