At Power Life, we value community and connection, which is why we want to spend a little time each month highlighting some of the incredible people that call Power Life "home". This month, I chatted with Sloane Heller. Sloane is one of Power Life's biggest cheerleaders in South Kansas City, she always brings the energy! Keep reading to learn a little bit more about Sloane' s life, journey and what she loves most about Power Life.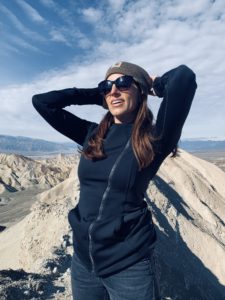 Abby: Tell me a little about yourself. What do you do for a living? What are some things you like to do outside of work and Power Life?
Sloane: Sloane Heller Communications helps clients in the health & wellness space with their internal and external communications.  So what does that mean exactly… you might ask?  Everything from figuring out your mission on this planet to building an incredible culture and getting positive media coverage.  The list goes on.
Outside of work and Power Life, I love to be outside with my family, binge on a Netflix show, cook, make a healthy cocktail and last but not least, treat myself to a few hours of self-care (I'll try anything)!
A: Tell me a little bit about what fitness means to you. What was your very first fitness class like? What does living a healthy lifestyle mean to you?
S: Wow.  I'm trying to think back to my first fitness class.  This will definitely date me, but I believe it was a step class in the mid-90's.  I remember it being challenging and intimidating at times.
Today, living a healthy lifestyle means something very different than it did when I was in high school.  Back in the day, it was about burning calories.  Today, it's about making myself stronger, more energetic and focused as well as fueling my body with the right food for me. It's about listening to my body when I'm tired.  It's also about finding work-life balance and time for myself.  If I don't put myself first, that's when things for everyone around me fall apart.
A: What's your favorite thing about Power Life?
S: Where do I begin????  The instructors are INCREDIBLE, personable, supportive, highly knowledgeable and genuine.
A: What is your favorite class to take at Power Life? Why?
S: Ricky's Power 2 class on Sunday mornings is my place of worship.  Ricky always has a relevant message that carries me through the week.  I love that he guides you through the same practice all month long so you have the chance to really hone in on each pose.  Plus, one of my favorite people in KC, Jennie Catano, practices next to me.
A: What advice would you offer to someone thinking about joining Power Life?
S: I have introduced several friends to Power Life – some who have never taken a yoga class in their life.  I always tell them that it's an incredible community of friendly, open-minded yogis and fitness enthusiasts and that there's a wide range of classes.  If one isn't a good fit for you, there are several more that will be!  It's the type of place that feels welcoming from the moment you step through the door so have no fear.  It'll feel like a second home in no time.
A: What is your life mantra? What does it mean to you?
S: It'll work out.  Or it won't.
My mom got this advice from actress Bea Arthur.  Again, I'm dating myself, but she played Dorothy on The Golden Girls.
I love it for two reasons.  It makes me laugh.  And it reminds me that the worst case scenario is normally not that bad.
A: What inspires you?
S: Dramatic landscapes, stories/interviews/documentaries about people who were dealt a really bad deal and turned that s**t around, and of course, my family.
A: If you could give younger you one piece of advice, what would it be?
S: Don't take life so seriously.
A: What's the number one thing on your bucket list?
S: Live abroad and become fluent in another language.
Power Life was created to be more than just a fitness facility, but a place to make your healthy lifestyle what YOU want it to be, and sweat it out with a like-minded community. Next time you see Sloane in class be sure to give her a "Hello!", you'll surely leave class with a new workout bud!