During these crazy times it is more important than ever to keep our community connected. I took some time to get to know one of our students, Marcia Rhodes, a little better. Keep reading to learn a little more about Marcia!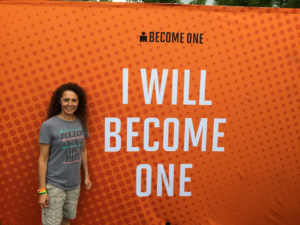 Bethany: Tell me a little about yourself. What do you do for a living? What are some things you like to do outside of work and Power Life?
Marcia: My day time job is in the tax and accounting world. I love endurance sports, marathons, ultras and Ironman triathlons help me find my peace in life. They help me continue to push myself, find new limits. I have a small but mighty family, my sweet husband and 11 year old son complete me, and our 4 dogs complete our family. When I'm not training for my own races, I can be found cheering on my son in all his sports and helping manage all his teams, a never ending job for a coach's wife.
B: Tell me a little bit about what fitness means to you. What was your very first fitness class like? What does living a healthy lifestyle mean to you?
M: Fitness = Happiness! I don't take my ability to workout for granted. I have been given a gift of a healthy and able body, whether that's racing, walking my dogs or pushing myself at Power Life – it's truly a honor that I get to do this each day.
My first fitness class at Power Life was a sculpt class and I thought I was going to die. I had just finished a half Ironman about a month before the first soft opening class, so I was in great cardio shape. It tore me up and spit me out on my mat but I felt amazing at the same time and I instantly fell in love with it.
B: What's your favorite thing about Power Life?
M: The teachers!! They truly lead me to a better version of myself. I love the music, the heat and the community, the classes are so upbeat that I forget I'm getting my butt kicked.
B: What is your favorite class to take at Power Life? Why?
M: I CAN'T pick a favorite class because I truly love all the formats! They each give me an energy needed for that moment. I have never left a class feeling empty or underworked.
B: What advice would you offer to someone thinking about joining Power Life?
M: You won't be able to find another studio that rocks out like Power Life. I have been to lots of different places and Power Life is so different. With all the different formats of classes, you never find yourself getting bored or tired of the same routine, because it's anything but routine. The teachers put so much effort into their playlists and workouts. The community is full of kindness, warm smiles, high fives (before social distancing) and judgement has never been in the atmosphere. Why wouldn't you join?
B: What is your life mantra? What does it mean to you?
M: I have lots of different mantras for different times. Ironman triathlons are long days and can be filled with some dark times.
My two favorites:
Anything is Possible with God.
The devil whispers to the warrior, "you can't withstand the storm." The Warrior whispers back, "I AM THE STORM!" Warriors come in all shapes and sizes. This quote reminds me that I am capable of many things, no matter my size, age or strength, I simply need to believe in myself.
B: What inspires you?
M: Kindness is contagious and can inspire you to do great things, no matter how small they may seem.
B: If you could give younger you one piece of advice, what would it be?
M: FOLLOW YOUR HEART! Enjoy the journey of growing up and embrace the bumps in the road. They make so much sense later in life, so don't fight them.
B: What's the number one thing on your bucket list?
M: This changes a lot for me because I try to in the present moment and live for today.
Right now I'm learning Spanish with my son. My grandparents are from Mexico and I never took the time to learn Spanish from them. I want to honor them by learning their first language. My grandma is 94 years old and looking forward to having a conversation in Spanish with me.