Community is the cornerstone of Power Life. We like to create space in the blog each month to get to know one of our students. This month I got the chance to speak with Maggie M. from our Kansas City market. Keep reading to learn a little bit more about Maggie!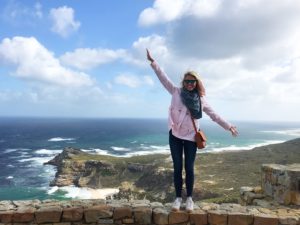 Bethany: Tell me a little about yourself. What do you do for a living? What are some things you like to do outside of work and Power Life?
Maggie: I am originally from Alton, Illinois (near St. Louis) and work in public relations at an ad agency here in Kansas City. I've been in KC for about seven years, which is crazy! Outside of work, I like to be active and spend my free time with my fiancé Joe, friends and family. When I'm not working, you can find me on walks with my dog, hanging out in our backyard drinking wine with my friends, getting things done around the house or planning our next get-together or trip. I have two little nieces who live nearby and just love spending time with them as they grow up.
B: Tell me a little bit about what fitness means to you. What was your very first fitness class like? What does living a healthy lifestyle mean to you?
M: Fitness is a huge part of my life! I grew up in an extremely active family and it was always just a piece of our puzzle. I grew up dancing and playing all the sports I could; I loved the team aspect and working toward a common goal. My mom is a great role model and I've always looked up to her. She taught group fitness when we were younger, runs marathons and finished her first half Iron Man in 2018! I have two brothers who also make fitness a priority – one is a physical therapist and the other is in med school. My dad coached us in sports growing up and loves getting a workout in, too! I've found that for me, working out is just as much mental as it is physical. I truly NEED it to feel like myself and get through my day-to-day life. The workout doesn't have to be super intense, but even a quick walk and some Vitamin D make all the difference. It's also been an awesome way for me to meet new friends and grow my social circle in Kansas City. The community here is wonderful!
B: What's your favorite thing about Power Life?
M: The community at Power Life is amazing! The people are all so warm, accommodating and welcoming. I never felt out of place or like I was "new," it was just easy. And a little thing – I love how the teachers greet you by name when you check in for class. It makes you feel like you're part of something bigger and that you belong!
B: What is your favorite class to take at Power Life? Why?
M: Sculpt all the way! I love how it combines yoga movements with intense cardio and strength training exercises. When I tell people I'm going to yoga, I'm fully aware that most of them think we are sitting in a room and meditating (nothing wrong with that!). Sculpt is an upbeat workout that combines so many different movements, and with a background in dance, I love working out to the beat of some good music!
B: What advice would you offer to someone thinking about joining Power Life?
M: Just take it at your own pace! Often, people hear that the room is heated and are immediately intimidated by it or don't think they can handle it. But, the heat is one of my favorite parts about Power Life! It gives you the ability to sweat out everything negative from your day, or things that have been holding you back. It's a little cheesy, but it's super cleansing for me, and when I leave the studio I'm ready to go take on another part of my day without any baggage holding me back mentally.
B: What is your life mantra? What does it mean to you?
M: I love words and quotes, so this is really hard for me to choose 🙂 But I would have to say – you get out what you put in. Attitude is everything, regardless of the situation, and it's all about how you react to the good or not-so-good moments of life. Not everything is going to be sunshine and rainbows, and while you don't have control of the unknowns, you do have control of how you react. And, you may just inspire someone else!
B: What inspires you?
M: People! I'm a natural extrovert and love being around people. My career has allowed me to be collaborative and creative, and often that comes from simply bouncing ideas off people and hearing different points of view. I'm lucky to be able to work in an industry with so much collaboration and team work.
B: If you could give younger you one piece of advice, what would it be?
M: Trust yourself! Often, we get so bogged down in what everyone else is doing. Don't be afraid to be true to yourself and act on what feels right for you – it doesn't have to be right for everyone else.
B:What's the number one thing on your bucket list?
M: To be a mom 🙂