At Power Life, we value community and connection, which is why we want to spend a little time each month highlighting some of the incredible people that call Power Life "home". This month, I chatted with one of our newer students, Lisa Guillory. While Lisa's new to both the Des Moines and Power Life communities, don't tell her that! You can always count on Lisa to offer a whoop or a holler and a smile when the going gets tough (AKA when the instructor calls out Burpees). Keep reading to learn a little bit more about Lisa's life, journey and what she loves most about Power Life.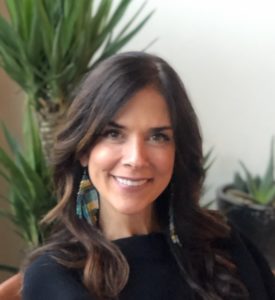 Annika: You're brand new to Des Moines! What brought you here? What do you do outside of work and Power Life?
Lisa: My husband was promoted to a leadership position in the Principal Financial Group home office. I am currently working on the West Elm Design Team as Home Stylist. But other than that, I love spending time with my favorite people, traveling, hiking in the mountains, listening to live music, reading and nurturing my plants.
A: Do you remember your very first fitness class? What was it like?
L: My very first fitness class was when I was when I was eight years old with my grandmother at the YMCA, complete with the leotard and leg warmers! I've been hooked ever since.
A: Tell me a little bit about what fitness means to you. How do you live a healthy lifestyle, both on and off your mat?
L: Fitness is so vital to me and my well-being. To me, [living a] healthy lifestyle means finding a balance between nutrition, strength, cardio and rest.
A: What's your favorite thing about Power Life?
L: The best takeaway from Power Life is how selfless the instructors are. They are truly dedicated to ensuring each client gets the best, safest and most effective workout. And of course, I love the music and how they are never afraid to TURN IT UP!
A: What is your favorite class to take at Power Life? Why?
L: This is hard to choose! Well, I love your class. (You had me at Jay-Z on Day 1!) But overall, I love Power Sculpt for the strength gains. I also like Power Barre for the physical changes I can actually see.
A: What advice would you offer to someone thinking about joining Power Life?
L: Be open and try as many classes as you can. You will be surprised at what you can do.
A: What is your life mantra? What does it mean to you?
L: My life mantra is to love all beings and treat everyone with kindness and compassion. And… SMILE! A single smile can change a person's day. We are all in this together, fighting our own battles, so why not try to elevate others if we can?
A: If you could give younger you one piece of advice, what would it be?
L: Be fearless and take more chances.  And do not compare yourself to others.
A: What is the number one thing on your bucket list?
L: Hike the John Muir Trail and climb to the top of Half Dome in Yosemite National Park.
Power Life was created to be more than just place to get a good workout. And it's people just like Lisa who help that mission come to life. Say hey to Lisa next time you catch her in class… chances are good you will have just made a new friend.