The Power Life community is so strong! I spent some time getting to know one member of our community, Alison Sanflippo. Keep reading to learn a little bit more about Alison!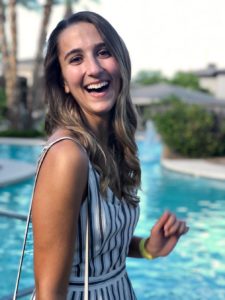 Bethany: Tell me a little about yourself. What do you do for a living? What are some things you like to do outside of work and Power Life?
Alison: I am a St. Louis native working in Kansas City as a Physical Therapist. I love my job because I am able to do what I'm passionate about – help people. Other things that I am passionate about are trying new things, traveling and exploring new places, and eating ice cream.
B: Tell me a little bit about what fitness means to you. What was your very first fitness class like? What does living a healthy lifestyle mean to you?
A: My very first class at Power Life was a Power 1 with Andrea. My gal pal Sarah Berry and I had to try a local fitness class for an assignment, which is how we stumbled upon our free weeks. With little to no experience with yoga and/or fitness classes, Andrea was extremely welcoming and helpful as we fumbled our way through the various poses. 3 years later, I still enjoy fumbling my way through new and familiar poses as I continue to find new ways to challenge myself.
I value personal fitness and the importance of maintaining a healthy lifestyle, which is what lead me to pursue my career in physical therapy.
B: What's your favorite thing about Power Life?
A: My favorite thing about Power Life is the environment and community. Power Life has become such a familiar and comforting presence in my life. It has that home-away-from-home feel to it. It's an important and essential way for me to disconnect and leave my stress and worries behind, even if just for a little while.
B: What is your favorite class to take at Power Life? Why?
A: My favorite class to take is Kelsey's Sculpt Express because I admire the consistency. You're always going to get the same three things: a great sweat, positive vibes, and a friendly reminder to "go drink lots of water and be kind to people."
B: What advice would you offer to someone thinking about joining Power Life?
A: Don't be afraid to step outside of your comfort zone! Whether that means taking your very first class, trying a new format, or simply setting up your mat in the front row instead of the back corner. Push yourself to try something different.
B: What is your life mantra? What does it mean to you?
A: I'm not sure I have a serious one, so I'll go with one my friend Katelyn once told me. "There's always room for ice cream. It melts between the cracks."
B: What inspires you?
A: I feel inspired by my closest friends and family. I don't know where I would be without these hard working, supportive, and loving people in my life.
B: If you could give younger you one piece of advice, what would it be?
A: I would tell myself to focus more on being the best version of myself for me, instead of trying so hard to be the best version of myself for others.
B: What's the number one thing on your bucket list?
A: I want to travel to all 50 states! I've been to 18 so far, so only 32 to go.