Are you looking for a creative way to spread a little bit of love? Check out this quick and easy handmade card how-to! Who in your life would enjoy getting some snail mail!?
"Sending a little love" Easy Homemade Cards
Supplies:
Scissors
Tape or Glue Stick
Pen
2 sheets of paper
Optional Supplies:
Colored paper / cardstock / magazine clipping / wrapping paper
Marker, colored pencil, colored pen, crayon, highlighter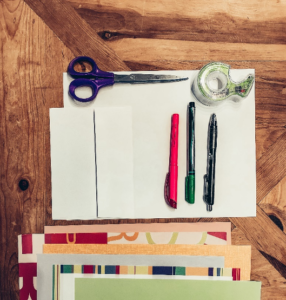 Step-by-Step:
Cut one sheet of paper in half.
Fold each in half.
Write "Sending a little" ½ inch tall.
Create a "backing" for this saying to pop out.

Cut a rectangle out of piece of colored paper. Leave a small ¼ inch border. No colored paper handy? Take your pen, marker, or highlighter and create some lines/pattern on white paper to give your backing some flair. Tape "flair rectangle" behind "sending a little love".

Write in pen "LOVE" 1 inch tall.
Draw your pot for your plant. (Pro Tip: Write a capital "D" and turn it sideways).
Grow your leaves. Get wacky here! Cactus, spikey plant, leafy, whatever you'd like!
Arrange and tape down all pieces to your card. Add a personal note inside. YAY!
Take a pic of your finished product and send it our way. We'd love to see how you stretch your creative muscles!