Do you ever find yourself scrolling through a blog, or pinning multiple recipes that look beautiful? One of the most popular requests I receive as a dietitian are recipes. I love to spend time in the kitchen, but I can fully admit that it is easy to get in a routine and eat the same thing, over and over again. When I share recipes, my goal is to share those that are tried and true, and that I love to use personally. As March is National Nutrition Month, I'm excited to share some of my favorite recipes with you. Not only have I found these to be easier to tackle in the kitchen along with everything else in life, but they are recipes that have amazing taste, provide ample nutrition, and will keep you coming back for more.
There's no excuse for not having time to make breakfast with this recipe! If you don't like peanut butter, you don't have to use it; but this is an awesome breakfast that you can definitely prep ahead of time either each night, or in a batch during the weekend. Oats contain soluble fiber to help keep you full; they also can support and stabilize blood sugars and lower your cholesterol levels. This recipe has 15 grams of protein per serving, which would be a perfect post-yoga option. The best part about this recipe is that it takes 5 minutes to prep, and it only has 5 ingredients.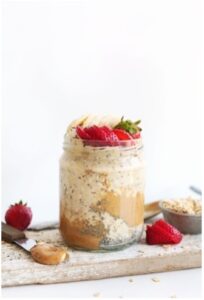 Instant Pot BBQ Pulled Chicken with Simple Slaw
This comes from one of my favorite blogs, developed by Registered Dietitians! They focus on nutrient dense and whole food recipes that are delicious. Instant Pot BBQ Pulled Chicken with Simple Slaw is an easy meal that you can incorporate into your weeknight, and perfect for leftovers or double batching for meals throughout the week. This is actually a staple in our home, because of how easy it is. Did you know that most barbecue sauces contain added sugar? Tessamae's Organic BBQ Sauce is incorporated into this recipe, which I love because of the simple ingredients. If you can't find the Tessamae brand, Primal Kitchen Organic Unsweetened Classic BBQ Sauce is a perfect substitution.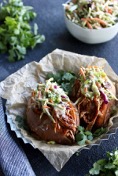 This is a recipe for two, but you can easily purchase a salmon plank and feed your family. Ambitious Kitchen is a go-to blog for me. I can find recipes that fit my everyday lifestyle, with some that are indulgent but with a better for you twist. Salmon is full of Omega-3 fatty acids, which supports brain health, as well as cholesterol levels. Add a side of vegetables like roasted zucchini, peppers and asparagus and some whole grains like quinoa. The recipe uses the oven, but with Spring coming, the grill seems to be calling my name with this one!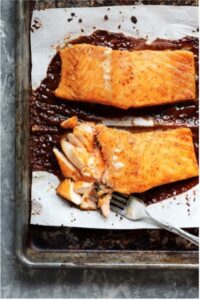 Sweet Potato and Egg Oven Bake
Perfect for breakfast, lunch or dinner, you can get your veggies and protein in with this dish. I love this recipe, because it is family friendly, it provides variety and so much color! If you don't like some of the vegetables in here, you can always switch them out for what you prefer.
It's easy to prep and clean as it is a one-pan meal. Pop it in the oven, and enjoy!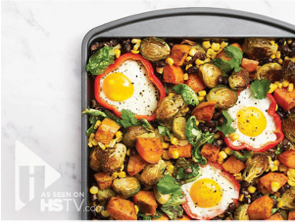 Another weekly go to for my family, this is great because you can make your dinner quickly, and prep meals for the week as well. Using any roasted vegetables, with a sunny side up egg to top it –  the yolk breaks and runs into the dish. This recipe calls for brown rice, but we have also used quinoa or cauliflower rice as a base. The Buddha Bowl checks a lot of things off of the list: protein, healthy fats, fiber, Vitamin A, Vitamin C, and more.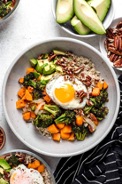 Black Bean, Sweet Potato & Quinoa Stuffed Bell Peppers
Here's a plant-based recipe that covers a vegetarian option, and you can also make it vegan by omitting the cheese. Don't fret though! These Black Bean, Sweet Potato and Quinoa Stuffed Bell Peppers still provides a lot of flavor, protein, fiber and vitamins that are chocked full of antioxidants. It only takes 20 minutes to prep, and 25 minutes to cook. Easy enough!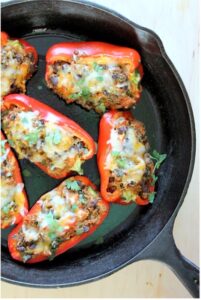 Peanut butter AND hummus? Seriously, two of my favorite things. Here's a better for you dessert and a dipper; using garbanzo beans to make dessert brings in protein and fiber, to keep you full and satisfied. Instead of your typical cookie dough dip that is loaded with sugar, this recipe doesn't have any added sugar. Use assorted fruit or whole grain pretzels to dip into the hummus.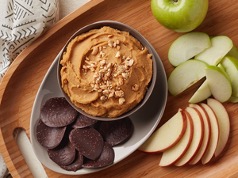 If you haven't had a Paloma before, you are missing out! Palomas are a lighter cocktail that are perfect for sipping on as we have warmer temps in our future. This recipe is a low sugar version but still offers great taste. Be aware of alcohol drinks that are sweet – the sugar definitely adds up in them, and its nice to have something very comparable to what you love! If you are celebrating post sweaty yoga class with beverages, here's a friendly reminder to continue to stay hydrated with water. The American Heart Association recommends drinking alcohol in moderation, which means 2 drinks per day for men, and 1 drink per day for women. Cheers!