Fall is a time for sweater weather, for chili in the crockpot with football games, and for turning up the heat in the yoga studio. Fall is also a time when the popularity of pumpkin rises extremely quickly. Although we tend to think pumpkins are a vegetable, they are a fruit in its true form, and contain over 500 seeds. We typically consume the inside of the pumpkin and the seeds, but every single part of a pumpkin is edible! The nutrients that you consume when eating pumpkin are amazing; pumpkins contain an extensive amount of fiber, potassium, vitamin a and c, magnesium and iron.
Whether you are a Starbucks Pumpkin Spice Latte lover, or you are looking for a new recipe for your stash of pumpkin in the pantry, here are some great ways to use more pumpkin this season.
Pumpkin Pie Overnight Oats with Chia
This recipe is divine! It's fiber-filled with rolled oats, chia seeds and pumpkin puree. I love

overnight oats because you make them the night before (hence the overnight), which makes meal prep so much easier. You can just make one breakfast ahead, or you can make multiple for a couple of days during the week. Check that off of your list!
These cute little things are a knock out of the park. They have a great combination of protein,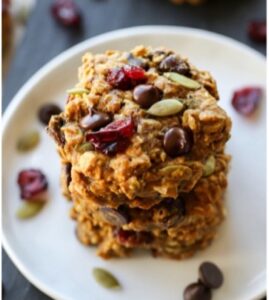 fat and fiber to help keep you fueled and keep your blood sugars in check. I love that you can eat them for breakfast at home or on the go, and they are perfect for a snack or sweet treat after a meal. The recipe makes 12 cookies, so you could double the recipe and throw half of them in the freezer.
You got me at pumpkin AND smoothie. Have you ever put pumpkin puree into a smoothie? It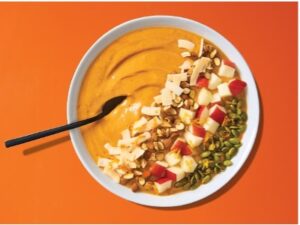 tastes amazing and really creates a creamy texture. This recipe is super easy with a small amount of ingredients. I really love the options of the toppings; these smoothie bowls just scream FALL!
Chili is a must with the cold weather, and this recipe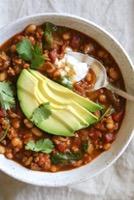 kicks it up a notch with the addition of pumpkin! The puree mixes into the rest of the chili ingredients like ground turkey, peppers, beans, a boat load of spices and more! You can make this on the stove in a large pot or Dutch Oven. If you need some other options, you can also bust out your Instant Pot or Crock Pot. They all will do the trick!
So, I've been making this pumpkin bread for years. I first made it when a family member's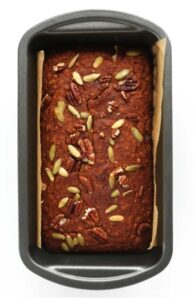 son had gluten sensitivities, and since my entire family love pumpkin pie, the traditional dessert wasn't an option. Every year that I make it, I fall in love with it all over again! The bread is actually gluten-free and vegan so if you are hosting family members or friends that choose these options, you've got pumpkin bread covered. It is so moist – I usually keep it wrapped up on the counter for a few days and then stick it in the fridge afterwards.  Can you tell I'm ready to make it again this year?
I'm not going to lie; I'm a huge pumpkin fan! In fact, my Grandma always made the best pumpkin pie. I love trying new recipes with pumpkin as a main ingredient or even as a baking substitute. I encourage you to try something new this fall to add a little more pumpkin spice in your life. I'm off to my kitchen to make some of these recipes. Happy baking!