How much water do you drink every day? This is a question that I feel like I ask people almost daily, because it is essential for your body. We know that staying hydrated is important.  The right amount of fluids can maximize your time and how you feel on your mat. Additionally, staying hydrated can impact your energy and affect how your brain functions.
Ok, so we are all supposed to drink 8 glasses of water everyday, right? Well, not necessarily. Since our bodies are all different from one another, we all need a different amount of fluids, but 8 glasses a day is a good place to start. While I could drink water all day long, not everyone is in the same boat. Water can seem plain to some people, while others just need more motivation to empty and fill their cup up again. As a Registered Dietitian, I'm excited to share four different ways to add a little extra something to your water that are tried, true and tested. I personally use these and recommend them to my clients as well.
Nuun
Nuun is a personal fan favorite over here! I've been using these tablets since the days when I was training for my first half marathon. That was over 10 years ago so I love recommending products that I've used time after time. You simply drop the tablets into water, watch
them fizz, and then sip on your flavored beverage. What's even better, they are loaded with electrolytes and very minimal added sugar. The cute little holder is an easy on the go option that you can throw in your bag after a major sweat session on your mat. Nuun has reallyexpanded their options for all types of customers and they are a perfect option whether you are looking to stay hydrated, rejuvenated or energized.  My favorite flavor? Tri-Berry.
Go Hydrate
Go Hydrate is a new product that I recently tried and honestly, fell in love with! These hydration packets were recommended from a blog I follow, so I decided to try the multi-pack and pick out some favorite flavors. All packets contain five electrolytes (calcium, sodium,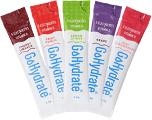 phosphorus, potassium and magnesium) with Vitamin D, which is an added booster for our immune system regardless of the season. Another reason why I like Go Hydrate? Zero added sugar, which is amazing. They are out of Chicago, and a family-owned business which I love supporting. The packets are easy to take along with you and I loved all five flavors. I am planning on buying more to support my body.
Liquid IV
Liquid IV is another option that I have used in the past that comes in a stick + powder form, focusing on hydration, energy and immune support. Liquid IV uses Cellular Transport Technology (CTT) which is a way that allows your body to absorb fluids and electrolytes even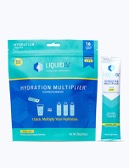 faster than it would with just water. I love that the company includes a lot of science-based research on this, so put on your glasses, and read up! This may be a great option for you, especially if you need something quick or you are feeling extra dehydrated which can happen more often than we realize.  They have some really fun flavors and if you can't make a decision, they've got you covered with a variety pack!
True Lemon
True Lemon is a product I learned about while I was in school getting my degree to be a Dietitian; to help patients stay hydrated and drink something other than plain water! Once I started trying True Lemon, I was hooked and continue to recommend it. Of course, they have

the basic lemon flavor, but many others; my favorite is lemon raspberry. Their products are made from real citrus juice and oils, very little added sugar, and no artificial sweeteners. True Lemon doesn't contain the added electrolytes, but I wanted to include them as an option, because adding some flavor to our water can help us drink so much more! And, it's a great opportunity to switch from other beverages like pop, energy drinks or fruit juices loaded with sugar.
If you aren't into packets or tablets, you can also just take advantage of citrus fruits or berries and add them to your water for an added punch of flavor. Whether you needed a little kick or love plain water as much as I do, remember the big H: HYDRATE! You may have just had a sweat session on your mat or maybe you barely broke a sweat. Either way, you still need to guzzle! Buy a reusable water, get a water buddy, and refill your water bottle when it is ¾ of the way empty. No need to thank me, but you will thank yourself later.