The holidays are coming. Wait, they're here… That happened fast. This year has flown by, and I would be lying if I said I'm not thinking ahead to all the upcoming holiday get-togethers and parties. Life is busy, and when we offer or are asked to bring a dish to share at the next festivity, it can be hard to think up a memorable and tasty option. As a registered dietitian, I think it's important to enjoy your food at all times of the year. But, of course, it's extra fun to embrace this idea at the holidays. Read on for some of my favorite recipes that are delicious, nutritious, and bound to be a hit at your next gathering.
Roasted Sweet Potato Pear and Pomegranate Salad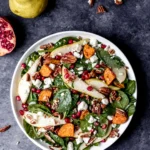 I've made this vibrant salad a couple times, and I love it! The best part? It's easy to prep the ingredients a day early. Along with beautiful colors, this salad is loaded with antioxidants from the spinach and pomegranates + fiber from the pears and sweet potatoes. Layer it on a platter when you arrive to your destination, and you're sure to wow the crowd. (This one should be on your go-to list for anytime of the year!)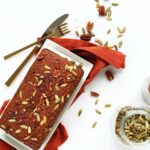 Ever tried flaxseed + water in place of eggs? Don't fret. It is easy and it works! Tailored to the gluten-free and vegan crowd, this recipe offers a twist on the typical pumpkin bread. The addition of rolled oats makes it dense but also fluffy, and the sprinkle of the pepitas on top provide a bit of crunch.
This seems too pretty to eat, but I assure you it'll be a huge hit. Whether you go all-in and create the festive shape, or just use the suggested ingredients and make a pretty board of your own, you can't go wrong. I love appetizers like this because they allow you to try different items you may have otherwise overlooked. With so many options, this board is perfect for a crowd!
Crispy Garlic Ranch Roasted Potatoes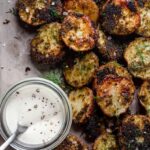 Running short on time? This is a great option! These potatoes only take 15 minutes to prep and 30 minutes to cook. Plus, you likely already have the seasonings in your pantry. If not, it would be a quick grocery trip to make an extremely delicious dish. These are perfect for holiday get togethers, but again, would also be suitable year-round!
Potentially unpopular opinion… I don't love stuffing. I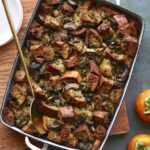 typically pass on it at any occasion, and I've never had the desire to make it. But this is a tasty twist, and it might even make an appearance on my plate. Did you know mushrooms are the only produce item that contain Vitamin D? During the winter months, our exposure to sunshine takes a dip, so add mushrooms to your grocery list to give your body what it needs!
All of these recipes have one thing in common – celebration. Whether this time of year includes for you lots of hustle and bustle or time to slow down and soak in a fresh snowfall, we hope you're able to do it all with the people and food you love most. What are some of your favorite holiday recipes? Feel free to share them in the comments below or tag us on social (@wearepowerlife) when you present them at your next gathering!