Power Life places an immense amount of significance on community. Now more than ever we turn to our community to provide strength and support. I spent some time getting to know one member of our community, Nicole Beaman. Keep reading to learn more about Nicole and what Power Life means to her!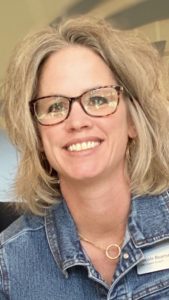 Ashton: Tell me a little about yourself. What do you do for a living? What are some things you like to do outside of work and Power Life?
Nicole: I am a licensed independent social worker.  I am the Vice President of Orchard Place Child Guidance Center where I have the pleasure of leading 130 staff to help support children and families with their mental health needs. Outside of Power Life I love spending time with my family, eating, traveling and being outside.
A: Tell me a little bit about what fitness means to you. What was your very first fitness class like? What does living a healthy lifestyle mean to you?
N: Fitness is my release.  My way to gain clarity and balance.  It helps me feel strong. It has been a integral part of my life since I can remember and I enjoy sharing it with others.
My first Power Life class was sculpt with Kate V. I remember loving it and being beat at the same time!
Living a healthy lifestyle is about balance in all aspects of my life.
A: What's your favorite thing about Power Life?
N: Honestly the people. I came for the classes and have come to truly treasured the community. That has been tough these last two weeks and I have been appreciative of the online courses and the chance to virtually connect with my community.
A: What is your favorite class to take at Power Life? Why?
N: I love sculpt for the sweat and burn. I also love 1.5 for a good stretch and mental challenge.
A: What advice would you offer to someone thinking about joining Power Life?
N: Try the free week. It gives you an awesome chance to try the formats and the various studios.  Even if you don't know anything about yoga – try it!!  They will help you learn.
A: What is your life mantra? What does it mean to you?
N: Be your best.  Do your best.  Be of service to others. Be a leader
I believe to be my best I have to take care of myself so I can show up for others.  Don't wait for someone else to do it, step up and do.
A: What inspires you?
N: Nature.  My family.  Solving a problem.
A: If you could give younger you one piece of advice, what would it be?
N: You can do anything you want to and be anything you want to be.
A: What's the number one thing on your bucket list?
N: Right now to attend Octoberfest in Munich.